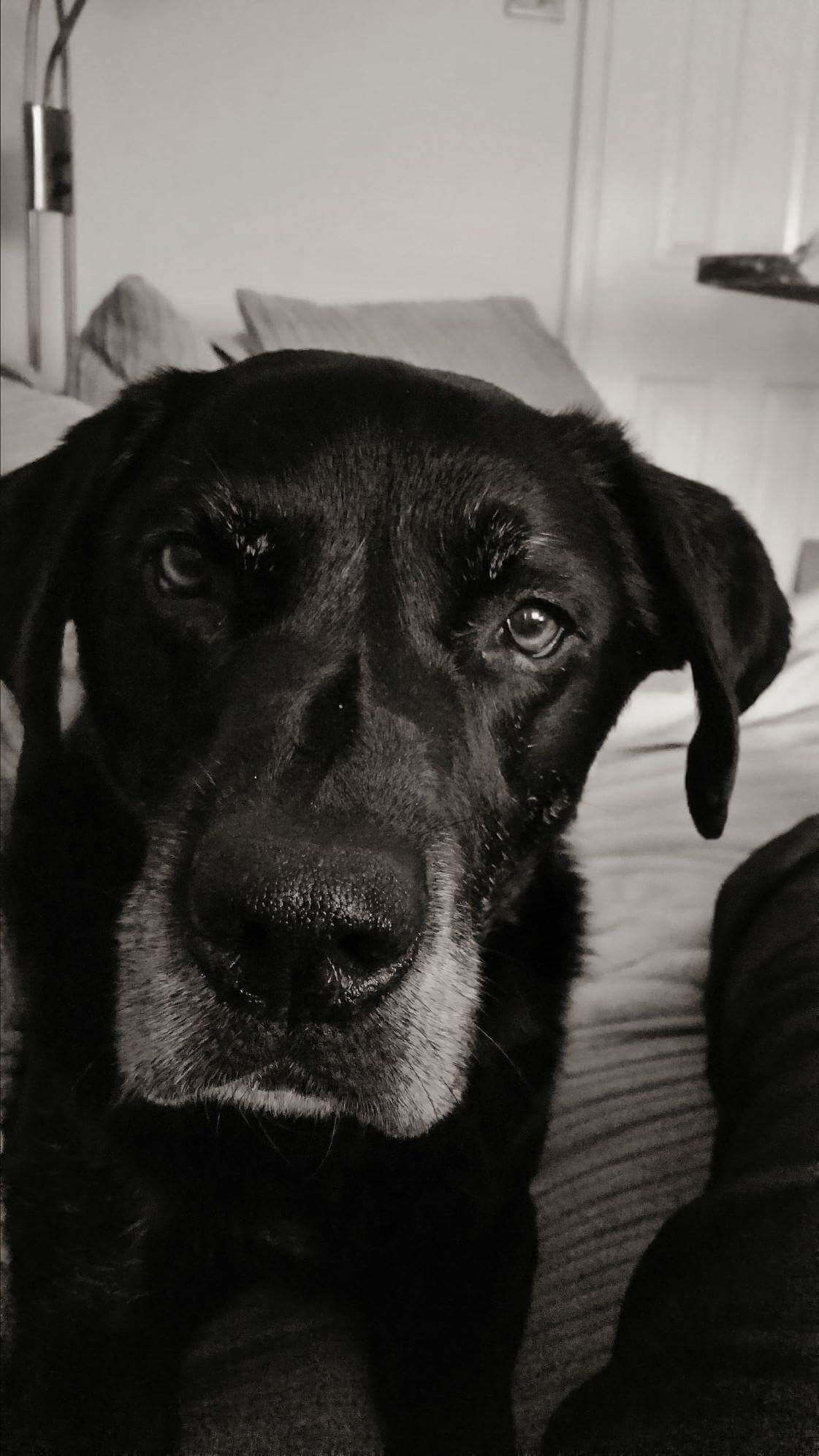 Retired Police Dog Diesel – Avon & Somerset.
---
Diesel sadly passed away in October 2021 with his owner by his side to kiss him goodbye
---
Diesel came to A&S when he was 18 months old. His original owners gave him to the RSPCA at West Hatch for rehoming.
He was identified as a dog with potential to become a Police search dog and so his training began.
He qualified as a drugs, firearms, ammunition and cash recovery dog in Euros and Sterling, and was placed with his handler Adam Paton.
I knew of Diesel and work on the same team as Adam, and in Jan 2016 happened to be in the police canteen when Adam walked in. He'd just been told that Diesel had to retire, and was rather upset about the news. Diesel had slight arthritis in his back legs and he was getting stiffer and slower in his searching and ability to jump up onto anything of any height. Adam needed to find a new owner, he would have kept him but he was to be given a new search dog and had other dogs at home and as much as he wanted to he couldn't take on an additional dog.
At the time I had a 16 year old Border Collie who had been diagnosed with cancer the previous October and I was having to make that responsible but hard decision on her future. Adam and I had a discussion on timescales and it was agreed that I would adopt Diesel and give him his forever retirement home. I met Adam and Diesel a couple of times to see what he was like and to learn his commands.
On the 15th Feb 2016 I lost Holly my Collie, she had a lovely last day, but the void was too much and I asked Adam if I could take on Diesel slightly sooner.
Diesel arrived on the 29th Feb 2016, I met Adam in a dog walking field near Portbury, they'd had one last walk together, Diesel then jumped into the boot of my car and I took him home. Adam had a tear as he watched me drive away with him.
It took 3 days for Diesel to settle in! Less for him to find his space on the sofa!
We very quickly set up a routine, his bed was in the kitchen, a new concept for him as he'd lived outside in a kennel, and if I needed to go out or put him to bed, it was up the garden for a wee, back inside, radio on, key out the back door and telling him to go into his bed, within a couple of weeks of doing this every time I only had to take the key out of the back door and he was in his bed!
Diesel is very much my dog, he has a canny way of knowing when we're talking about him, even if we think he's asleep, his tail starts to wag at the tip! If you make eye contact then that's as good as telling him you're up for him to sit on you, at 34kg he's one big cuddle monster! He does love his fuss!
He follows me everywhere, he had to learn that upstairs was a no go zone for dogs, I just don't allow them up there, so he'll patiently wait at the bottom for me to come down.
Diesel loves to play ball and will spend many a happy walk bringing a ball back to me, his sense of smell is amazing, he will usually dive off into the undergrowth, right into the brambles and return really pleased with himself when he's found another dog's ball.
Diesel also loves to swim, and will find the dirtiest, muddiest, smelliest pond to take a dip in! This usually happens when I'm on a time constraint and he becomes stubborn and refuses to come out! He's made me late for work as a result!
When swimming he had a habit of needing to rescue drowning sticks! He will find one, bring it out and drop it at my feet then go back in for the next one! More than once he's grabbed a stick which he felt needed rescuing only for it to be still attached to a tree and he's happily treading water trying to bring it to the shore, unfortunately two people then thought he was drowning and that he needed rescuing! Oops!
Diesel has been useful in the local park where I walk him, he's such a friendly boy anyone sat on the ground he'll go and say hello to, mention the words "retired drugs dog" usually clears the park if these people are up to no good!
Diesel is now 10 and a half, greyer around his muzzle and slightly slower, but he's loving his retirement, he gets walks in the country, trips away in the caravan and most of all, all the love a Labrador could want!
PC Michelle Gozna