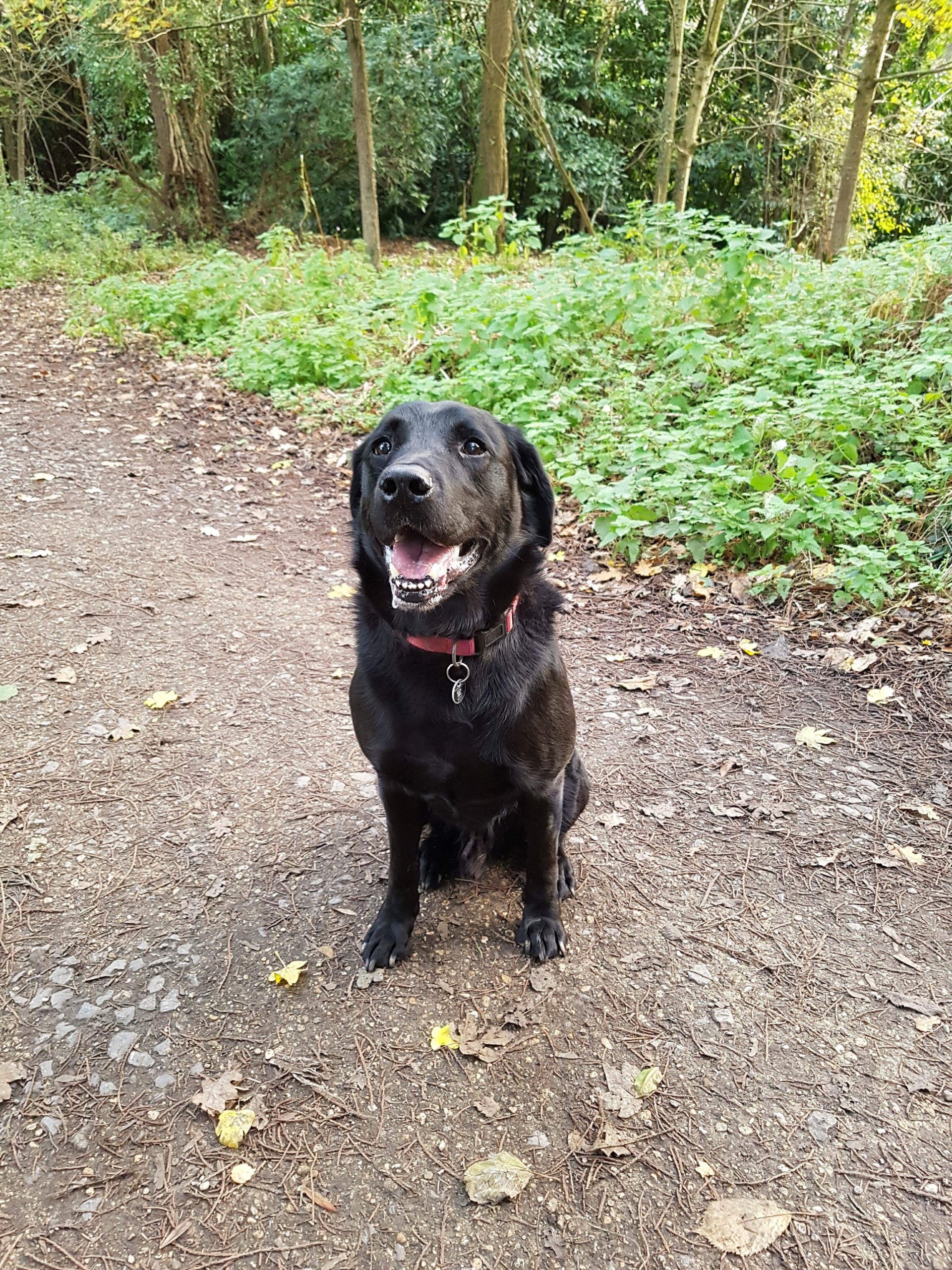 Retired Police Dog Solo – Avon & Somerset.
Solo was born in March 2009, he is KC registered and although I don't know his KC name he was called Oakley before being renamed Solo.
He was put up for rehoming and came to A&S around May 2010.
Solo trained to become an explosives search dog and on qualifying worked with his handler Simon Castledine.
Having already rehomed Diesel I wasn't on the look out for a second dog! However, sat in the report writing room doing some paperwork, in comes Simon who says the words 'do you know anyone who wants to rehome my dog?'. 'What kind of dog?' I ask, 'black Labrador' is the response! At this point I engaged mouth before brain and said 'I'll have him!' Quickly followed by 'but he'll have to get on with Diesel as he's my main priority!' No thought of how I was going to explain a second dog to my partner!
I took Diesel to meet Solo, they ignored each other! Both ran in different directions, noses to the ground wrapped up in whatever smell they'd found. However on introducing a ball to play with they shared beautifully. Solo was like a rocket going after a ball which made me realise just how slow Diesel was! It didn't matter which one got to the ball first the other wasn't fazed. A good sign this might just work!
My next hurdle was convincing my other half that we ought to have a second dog! He's a cat person and I'm a dog person!
Growing up I've always had dogs, Rufus (14)a yellow Labrador, Tess (17) and Pippa (16) both Border Collies we had at the same time , Amy (14) taken on as a retired gun dog at age 5, Holly (16) taken on at aged 10 and Diesel.
My reasoning was that I'd had two dogs before and as you've got to walk one anyway having a second was no problem!
He wasn't convinced, but Solo duly arrived! Solo also had been living outside in a kennel and had to get used being inside. His bed was next to Diesel but he wouldn't go in it preferring to lie on the tiled floor.
Solo is a smaller build than Diesel and weighs in at 26kg, he also has a mind of his own and for the first 2 weeks refused to do anything he was told!
Diesel was a little jealous, having had his mum to himself he found he suddenly had to share! He also realised he has to share space on the sofa!
I don't think Solo had ever been on a sofa before and the one person who wasn't convinced about having a second dog was the one person who invited him up!
Whereas Diesel wanted to climb all over you, Solo was happy to curl up next to you and rest his head on your leg.
Solo needed to learn about the no going upstairs rule, 5 months in and he's just about got it! Early days we would find he'd disappeared and I'd find him curled up on our bed! A few times I'd go to bed and as I was drifting off there would be a thud as he landed next to me, curled up and went to sleep!
Solo is also a swimmer, he loves the water, however unlike Diesel he understands the word 'No' just as he's about to go into the same muddy, smelly pond!
Solo likes to rescue stones, he'll happily put his head underwater and pick a stone up and bring it to the shore and go in for another!
In the 5 months that Solo has been with us, both dogs have really come together as a team, having spent 10 days away with them in North Wales in the caravan where they lived in close proximity they are learning new things off each other. There's a little bit of a bromance going on between them, with Diesel licking Solo round his neck and if he stops Solo will paw him to keep going, it's very sweet.
I now have two shadows that follow me about, I can no longer close the door of the downstairs loo if I go in, fitting me in with two Labradors no longer works!
Both of my boys are a big part of our lives and are a masdive part of our family, we wouldn't have it any other way!
PC Michelle Gozna